Anniversary season of the ensemble "mit vier" 1992-2022
The Bernese ensemble "mit vier" celebrates its thirtieth anniversary in October 2022 with a Tuscany tour, before concluding the anniversary tour in June 2023 in Basel, Bern and Biel with works by Swiss composers composed especially for the ensemble.
In January 1992, Kaspar Zehnder graduated from the Bern Conservatory with a teaching diploma. The programme included Mozart's Flute Quartet in C major as a chamber music piece, with Kaspar's sister Charlotte Zehnder, Heinrich Forster and Johannes Bühler participating.
Two years later – Charlotte had meanwhile been in London, Kaspar in Paris – the same four accepted an invitation to Mauritius. Cyclone Hollanda, which swept over the island with the greatest force, caused some of the planned concerts to literally fall through, but there was plenty of time for socialising and playing skat. This is where the name of the ensemble comes from: anyone who can play his game "with four", i.e. with all four jacks in his hand, has nothing to fear for its course.
Old languages as a unifying element
Johannes Bühler was the first to retire from the ensemble, Marc van Wijnkoop, Christian T. Schneider, Alexandra Iten each joined on cello for a time until Urs Fischer joined in 2003. Heinrich Forster handed over the viola to Dorothee Schmid in 2006.
The name remained, and today the ensemble "mit vier" is certainly one of the few or last quartets in the world whose members all studied Latin and Greek at grammar school.
 
Music as a reason to travel: performances all over Europe
Regular travelling, not only for concerts but always for holidays and cultural purposes, has done much for the team spirit. Mauritius was followed by several trips to London, Bavaria, the South of France, Sweden, Romania and consistently every two years to Tuscany. In Switzerland, the ensemble "mit vier" has performed year after year in smaller concert series and has traditionally given a concert in the Romanesque church of Bremgarten BE at the end of the season before the summer holidays. It has also performed with great regularity in benefit concerts for "Fragile Suisse".
Rich repertoire with emphasis on the new and the newly discovered
The repertoire deserves special attention: The ensemble's first programmes consisted mainly of Mozart's flute quartets and were enriched with duos and trios in various instrumentations, but the horizon was soon broadened with newly discovered works: With six quartets each by Antonín Reicha and Ferdinand Ries, with original works by Joseph Haydn, Giovanni Battista Viotti, Paul Wranitzky, Friedrich Dotzauer, Franz Krommer, Caspar Kummer, Ferdinand Thieriot, Ferdinand Lessel, Henrik Crusell, Ignaz von Beecke, Domenico Cimarosa, Luigi Boccherini.
The quartets by Aaron Copland, Claude Debussy, Michel Damase, Gottfried von Einem, Virgilio Mortari, Jindřich Feld, Edison Denisov, Volkmar Andreae, Joseph Lauber and Armin Schibler or Herbert Viecenz opened the way to modernity.
Specially composed for the ensemble "mit vier"
The numerous works written for the ensemble "mit vier" are a special feature of the ensemble's repertoire and have repeatedly given rise to contrasting programmes. World premieres have always been the focus of festivals (L'Art pour l'Aar, SUISA Day Murten Classics) or tours: Katrin Frauchiger, Giorgio Tedde, Gabrielle Brunner, Marco-Antonio Perez-Ramirez, Hans Eugen Frischknecht, Jean-Luc Darbellay, Fritz Voegelin, Thomas Fortmann, Jost Meier, Katharina Weber have written for the ensemble "mit vier" and never let the interaction in the ensemble get boring, even after thirty years.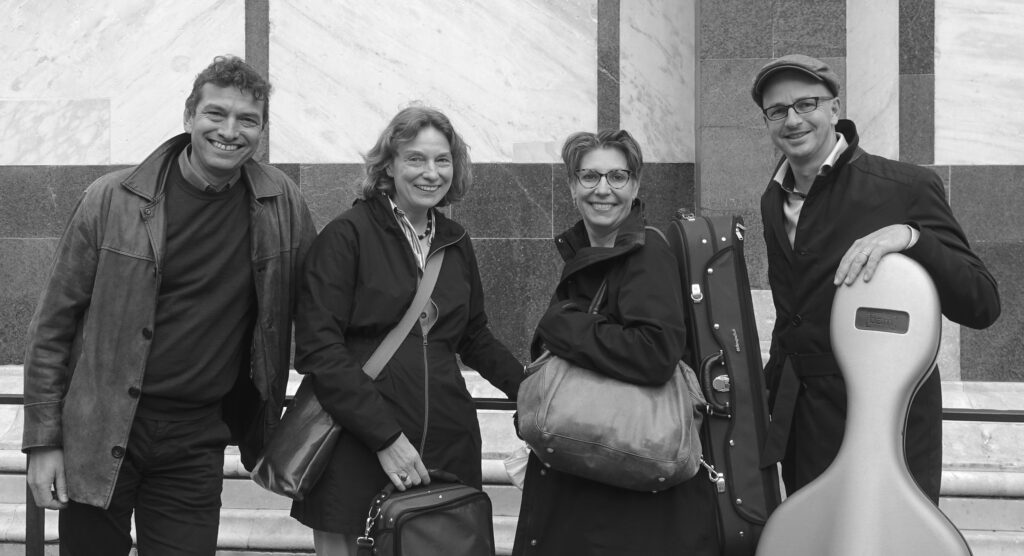 Concerts in the Jubilee Season
Tournee Toskana (Werke von Mozart, Andreae und Dotzauer)
12. Oktober 2022 Chiesa San Gervasio Firenze
13. Oktober 2022 Cimitero evangelico degli allori, Firenze
13. Oktober 2022 Certosa di Firenze
14. Oktober 2022 Borgo San Lorenzo, Pieve
15. Oktober 2022 Sesto Fiorentino
Benefizkonzert zugunsten Fragile Basel (Werke von Mozart, Andreae und Dotzauer)
21. Oktober 2022, 19.30h Peterskirche Basel
Reger Bern 23
Pfingstmontag, 29.5.2023 Nydeggkirche «mit drei»
Max Reger: Serenade D-Dur op. 77a für Flöte, Violine und Viola
Samuel Cosandey: Neues Werk für Flöte, Violine und Viola
Max Reger: Serenade G-Dur op. 141a für Flöte, Violine und Viola
L'Art pour l'Aar 2023
21. Juni 2023, 19.30h LeCap Bern
22. Juni 2023, 19.30h Centre Pasquart Biel
Werke von Hans Eugen Frischknecht, Samuel Cosandey, Markus Hofer und Thomas Fortmann