Conductor · Flutist · Artistic Director
Conductor, Flutist, Artistic Director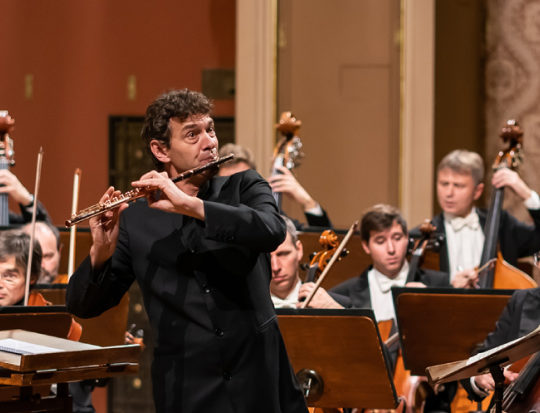 Kaspar Zehnder has been artistic director of the Murten Classics since 1999, the Biel Solothurn Symphony Orchestra since 2012, the Hradec Králové Philharmonic Orchestra (Czech Republic) since 2018 and the International Summer Academy Biel-Bienne since 2019.
As a flutist he has played in the ensembles "mit vier" and "Ensemble Paul Klee" for many years. He regularly performs at important festivals, both as a chamber musician and as a soloist. In autumn 2019 he will again go on tour with Sir Simon Rattle, Magdalena Kožená and friends. The project was already on tour throughout Europe in 2016 and has been released on CD by Pentatone…
Anniversary season of the ensemble "mit vier" 1992-2022 The Bernese ensemble "mit vier" celebrates its thirtieth anniversary in October 2022 with a Tuscany tour, before
References from all over the world
Dear Maestro - just a short note to thank you properly and congratulate you for a wonderful week! Our orchestra runs a very long season - for the first week of September to the end of July and usually by this time of the year we are hot, tired, frustrated and ready for a holiday! You made us forget all that and instead provided us with the great opportunity to not only learn new pieces, but to enjoy them and play them to the best of our ability! The audience response, you might like to know, was unprecedented in my time with the orchestra. We have never heard such an amazing response to both an unfamiliar work and a new face on the podium.

So, clearly we ALL would be happy to see you back!
If Kaspar conducts us, there is something good in the air.
Grossen Dank für diese überaus angenehme und respektvolle Zusammenarbeit. Deine Musikalität hat mich nachhaltig beeindruckt.
I want to thank Kaspar Zehnder for being a wonderful crossover inspiration with wide open ears and a gentle reassuring soul. It was such a great pleasure to work with you and having you guide us through the evening like a star.
ein ganz grosses kompliment allen beteiligten für "seven towers" heute abend. dass es dir und SOBS gelungen ist, diese uraufführung in biel zu veranstalten, verdient höchstes lob. in anwesenheit der komponistin, deren ausführungen ich auch hinterher noch gerne lese, hast du mit allen beteiligten es verstanden, "räume" zu öffnen für zeitgenössische musik, für eine sehr komplexe komposition. das schlusswort der in der einführung beteiligten musikerin, dass man auch einer völlig unbekannte sprache lauschen, sie schön, angenehm finden kann, hat mich während der 180? begleitet. vieles konnte ich nicht verstehen, aber vielleicht mit sinnen aufnehmen: bilder, klänge, wobei ich als laie nur einen bruchteil der einzelnen towers wirklich verfolgen konnte, beim ersten und einmaligen zuhören. als hör- und auch als visuelles erlebnis fand ich es einfach grossartig, dieser komposition beizuwohnen und hin und wieder aufzuhorchen: ja, da erkenne ich jetzt die vierteltöne, gar die töne gis und cis, vielmehr aber auch etwas von der struktur zu ahnen. und dann liess ich mich einfach auch mal "gehen", lauschte den klängen wie eben einer mir fremden sprache. die aufmerksamkeit war bis am schluss da - und morgen würde ich mir das ganze konzert so gerne nochmals anhören.
Das war einfach WUNDERBAR, dieses 1. Sinfoniekonzert gestern Abend! Ich war begeistert! Dieser Dohnanyi ? so herrliche Musik! Ich habe ihn bisher viel zu wenig gekannt! Und die Wahl auf das letzte Klavierkonzert von Bartok zu legen, fand ich auch sehr schön. Und die Dritte von Brahms ebenfalls. Es war wirklich wunder- wunderschön, das Orchester sehr präzise, virtuos, ich habe euch alle sehr bewundert. Über allem hat das überwältigende Kulturgut der alten Donaumonarchie geschwebt ? und das hast du ja in deinem Wort an das Publikum (das ist auch immer so gut, wie du dich ans Publikum richtest!) auch noch sehr schön dargelegt. Reich beschenkt und begeistert strömte man zum Ausgang, und um mich herum hörte ich nur Lob und Freude. DANKE für all die schöne Musik und die Konzerterlebnisse, die du Biel möglich machst - sind glücklich, dass wir dich als Chefdirigenten haben!
From the first moment, the complicity was magical. Few conductors listen and involve a soloist like Kaspar Zehnder. Conducted by him you feel save, free, naturalness and spontaneity flow. His gesture is always elegant, in accordance with his exquisite musical taste. But his enormous generosity and humanity rise above all else.
Die gemeinsamen Konzerte und musikalischen Augenblicke mit Kaspar Zehnder waren immer wieder in so vielerlei Hinsicht einzigartig: nah, sensibel, tief empphatisch. Sein feinsinniges Hören, seine musikalische Intelligenz, sein Reflektieren als der Humanistund weit blickende Musiker und Dirigent, der er ist, schaffen immer wieder gemeinsame musikalische Erlebnisse, die durch und durch beglücken und unvergesslich bleiben
Ich will Ihnen ganz herzlich gratulieren zum gestrigen Weihnachtsoratorium, es war ein Genuss! Ich war für einen Moment ganz irgendwo anders, weit furt hat's mich getragen, ein wunderbares Gefühl! Grossen Dank nochmals für die Einladung und für diesen Nachmittag/Abend.
Kaspar, it's such a powerful reading of it! Wow! I'm so impressed. It has such a great spirit, energy, details, enthusiasm, subtleties of shape? Bravissimo! And yet, you never show off in a bad way. That's what I love about your conducting.